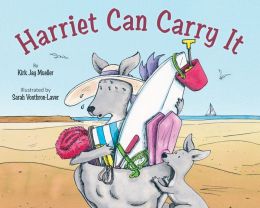 On Saturday, November 1st, Santa Clarita Valley Schmoozer, Kirk Mueller, shared his journey from teacher to author at his book signing at the Newhall Library. It was a packed house of Kirk's former students, teacher friends, family and SCBWI members.
Kirk thanked everyone from his warm and lovely wife, to our fearless Schmooze leader, Laurisa - and all people in between - for supporting him in his dream - which took ten years to manifest. Ten years!
Kirk said, "I kept it a secure for so long...it was just a title, Harriet Can Carry It." And then one day while he was rummaging through some rejected library books and he found a picture of a kangaroo, and knew who Harriet was. He had to tell her story.
Still a crazy, busy teacher, it took him many years after that to actually write the book. He sent it out four years ago and got some "really nice rejection letters." But he didn't give up. And after two years he heard from Starlight Books that they wanted to publish. And the rest, as Kirk said, "Was history."
Kirk, now happily retired, is working on his next book, but that's not all. He returning to his roots of story telling and song writing. He even wrote a song for the adorable Harriet. A catchy tune that I'm still singing...
She said, "You all can come along.
If you just sing this song,
I'll carry your stuff till I've had enough
Cause I'm so nice and strong."
Fun fun fun. Congrats Kirk! And thanks for inviting us to "Come along and sing your song."